Who is RWOA.io VIM Club for?
-> For the busy professional or business owner or graduates of outside investment courses who have not been able to apply the knowledge they learnt.
-> For people who had some investment experience but is not satisfied with their investment results so far.
-> For people who still want to make their own decision on which stock to buy and sell and at what price but looking for a partner to bounce ideas with.
-> For people who can spare at least 1 hour per week to focus on improving their investment knowledge and results.
-> For people who have spare cash to invest and looking to continuously learn and apply the best way to utilize them through stock investing - The Buffett Way.
Who is RWOA.io VIM Club Not for?
-> Not for people who are looking for stock tips.
-> Not for people who wants the "get rich quick" secret sauce - because there are none.

-> Not for people who are lazy to learn and make their own investment decisions.
-> Not for people who have zero time every week to learn.
-> Not for complete beginners.
What is RWOA.io VIM Club?
An exclusive club where you get 1-to-1 mentorship with Chris complete with the tools you need to save you time and improve your investment result.
The purpose of the club is for members to achieve better investment returns utilizing the right value investing & options selling mindset & strategies.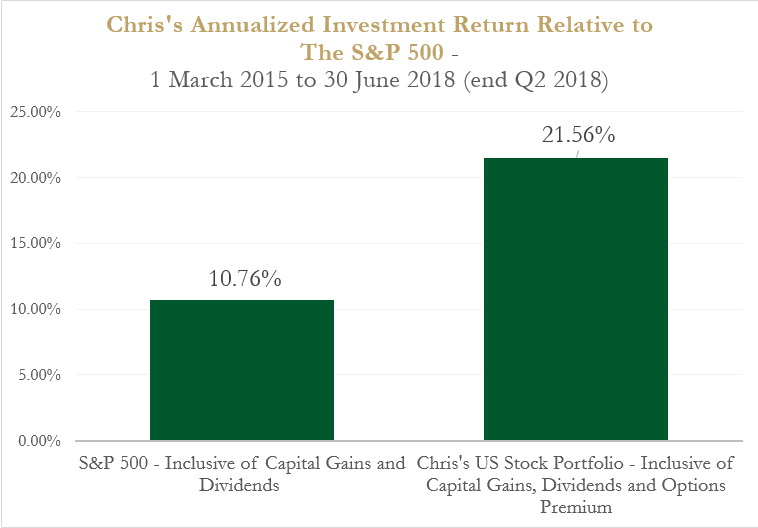 You will be taught privately by Chris, founder at Re-ThinkWealth.com - who had achieved 21.56% annual compounded gain from the moment he started investing in U.S. stock market.
---
From The Desk of Chris Lee Susanto
Chris Lee Pte Ltd
Monday Morning 10:52am
Hi everyone, it's Chris.
When I was around 21 years of age, I started to fall in love with value investing, a proven stock investing methodology used by the world's richest and most successful individuals like Warren Buffett (USD 85.5B net worth as of 31 March 2018).
So what I did was that...
I invested about SGD 3,300 to attend a 4 day value investing course (suprise! No I did not learn from scratch. I used the course as a shortcut to start my journey of lifelong education through experience and further reading).
That was when I found the value of investing in a lifelong education!
Sometime after I attended the course...
I started investing in U.S. and SG stock market with my 4 figure savings that I saved from my part time work in sales (I worked hard and saved a lot).
I started to make money in more than 90% of the stocks I bought and sold by using this value investing method.
And I started to also pen down my investment journey in a personal blog at www.re-thinkwealth.com.
You can check out some of my writings there (go ahead! www.re-thinkwealth.com).
I pen down my thoughts and results there, out of pure passion in investing (not joking! My hobby is reading annual reports).
Throughout the years, I made lots of money as a teenager who simply follows a proven structure known as value investing when deciding which stocks to buy and sell.
And at what price to buy and sell them at.
So I turned my asset under management from a 4 figure to a 6 figure in about two years time from 2015 to 2017.
And throughout my experience so far...
I have come to realize that stock investing is definitely not gambling unlike what most people would think.
What do you think stock investing is really about?
To me, it is simply a structured process of knowing what business we understand, sticking to the business we understand, analyzing that business and valuing it.
Then, managing our emotions by being patient. In investing, often inaction beats action.
And of course, knowing the what we don't know is crucial.
Over the years, many people start asking me to teach them stock investing.
More specifically, teach them value investing.
Why so?
Value investing is simply put, probably one of the safest active kind of stock investment methodology out there with the highest return.
I like to invest in beaten down stocks that I understand.
Somehow... it usually pays a huge dividend (but well and safely covered by ample free cash flows).
Usually, that also gives me an opportunity to do options selling which gives me huge options premium through selling puts and calls options along the way.
U.S. stock market is the place to be.
By total market capitalization, number of trading activities and other factors such as transparency and corporate governance, U.S. stock market consistently ranks number 1 in the world.
But...
There are a lot of bad people out there who flaunt the U.S. stock market as a way to get rich quick.
I want to implore to everyone that... it is NOT.
There are 4 principles that I want to impart - when I educate ...
#1 Never ever borrow money to invest.
#2 I do not give you stock tips - instead, I teach you how to make your own decision on which stocks to buy, when to buy them and when to sell them - you take full accountability (more sustainable for YOU over the long run).
#3 Knowing our circle of competence is more important than how big our circle is... key is on deciding what companies or sectors to invest in
#4 Importance of margin of safety
---
So after careful consideration... I decided to start a club to cater to my intentions above.
In the 2017 beta version of the first VIM (value investing mentorship) (without an online all-in-one seamless membership platform and personalised coaching service aspect), 37 people trusted me and joined because they like my investment thought process that I displayed over the years via my personal blog re-thinkwealth.com - and they are still a member today as of June 2018.
Over time, I made improvements to the VIM initiative. And you will be getting the best of the best if you join us now.
---
What is inside RWOA.io VIM Club Membership?
Key benefits summary:
Continuous and accountable learning. Monthly check-ins. Learn on the go with the online platform [ios app & desktop]. New contents every week. One in-depth stock case study analysis every month. Specific ideas discussion & private mentoring through multiple 1-to-1 session with Chris, founder at re-thinkwealth.com.
You Get 16 Valuable Benefits every year:
+ 1-to-1 Mentorship with Chris
1. Monthly check-ins by Chris through a WhatsApp call (12 calls a year) - to remind you and keep you accountable on your actions and applications
3. Unlimited 24/7 coaching via WhatsApp, Telegram and Email
4. Quarterly educational performance review (4 review a year) - to monitor your frequency and quality of interactions with me and how we can routinize things better (through Zoom)
+ All in one membership portal that you can access across any device you own (App & Browser) containing:
6. My personal stock investing checklist
7. The Value Investing & Options Selling Manual
8. My Valuation Calculator (DDM, DCF, Owner Earnings, Football Graph)
9. Weekly value investing insight (48 insights in a year) - to give you actionable insights on value investing
10. Monthly stock case study (12 case study a year) - (split into 4 sections [chosen company, company analysis (focus: business model & sustainability), competitors analysis (focus: relative competitive advantage), determine valuation & conclusion])
11. Access to my stock watchlist (Singapore, U.S. & HK stocks)
12. My current stock holdings details
13. My investment performance and reflection [learn from my personal successes and mistakes]
+ Other benefits
14. Members only Telegram chatroom
15. Members only Facebook community
16. Personalized certificate of membership with a unique serial number
17. Gain access to all past months' stock case study and weekly value investing insights for free
Why RWOA.io VIM Club is so Different?
1. Let's face it... I know that when you signed up for stock investment courses outside, you may not apply the knowledge you learnt.
That is even though you already paid thousands of dollars for the course.
Why?
Because nobody is guiding you and keeping you accountable (so you go back to your day to day life and waste the money you spent for the course - because you did not apply it).
My mentorship (renewable yearly) ensures accountability.
I promise I will consistently remind and check up on you.
With the mentorship, I will be able to review your stock analysis and give feedback.
With outside courses or other online courses, there is not enough human factor to guide you to really apply the knowledge you learnt from courses or websites.
It's because outside courses have thousands of existing graduates and the teacher might not be able to take care of so many people's queries after the course).
I know, I've been there.
That is where my mentorship program comes in as I give you the "human touch point" - me! to discuss specific stock ideas you have in mind.
2. You are busy.
I save your time by curating and analysing the facts that matter for you to make your own decision in the stock market.
Do not let your job/business interfere with your financial freedom.
Leverage on my mentorship to cover your lack of time.
3. I do not upsell.
There are companies out there who will consistently and annoyingly upsell you other more "premium" products.
I will not.
So you can be rest assured that when you sign up for this club, I promise that you are signing up for peace of mind.